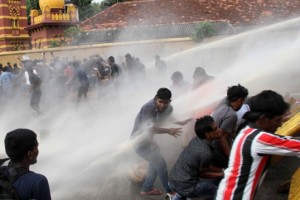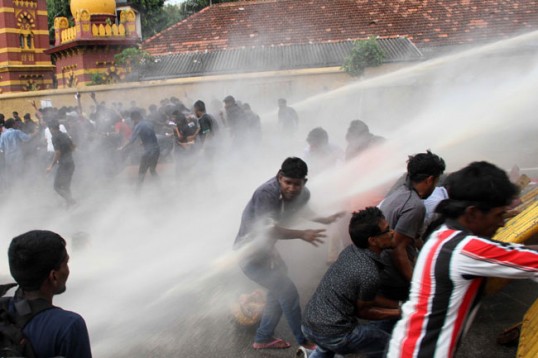 Condemn the brutal Police attack on HND- A Higher National Diploma in Accountancy – students 29. 10. 2015
The event of 29th October where the Police brutally attacked students in the higher education sector has led to a serious question whether the current "yahapalana' (good governance) government is capable of meeting minimum expectations of the people of this country.
The attack on students on 29th is not an isolated incident. There were similar attacks on various other people such as peasants in Bandagiriya Tissamaharama campaigning for clean drinking water. We demand the government to take immediate action against those who ordered the police to act in this inhuman behaviour. IT is clear that this attack on students in Colombo was a pointer to a high handed attitude and militarised nature of the present police force. Almost all the officers of the present police were recruited and trained and put in to service in a militarised background where the normal laws were undermined by the emergency laws and the Prevention of Terrorism Act. Though the emergency was withdrawn few years back the police have still not used to learn how act in a changed situation.
In a backward capitalist country like ours the police force cannot be democratised under this system and we cannot expect it would act to protect ordinary people which is their stated paramount duty. This incident has again proved that the police is ultimately a tool in the repressive state apparatus itself decaying with the capitalist state.
As socialists we campaign to build new institutions in place of those decayed anti-people state organs. It can only be achieved in a socialist society devoid of exploitation and repression.