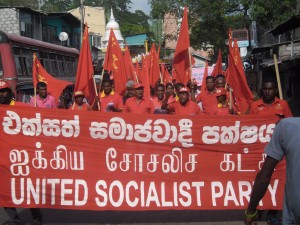 The Socialist May day conducted by the United Socialist Party was held in Colombo successfully. Comrades & friends of the USP from all over the country came to Orugodawathe, a Colombo suburb to participate in the parade and marched to Grandpass in Colomobo central for the rally, The  rally started at 4 pm.
Sirithunga Jayasuriya, General Secretary of he USP addressing the meeting said that red became the colour of the working class not on their own choice. It was thrust upon them by the brutal state machinary by shedding the blood of workers in Chicago in 1986..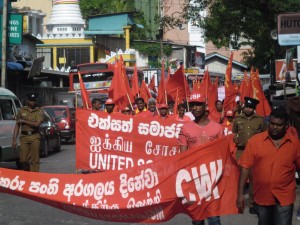 Former President Mahinda Rajapakshe is trying to come to power again by clinging on to communalism. He is intoxicated with power.He is daily going to temples to deceive innocent rural people. Present government is boasting about the 19th amendment to the Constitution. It is only a small step. A lot has to e done to ensure democratic freedoms of people. Only through socialist change of society we can achieve real democracy and freedom, Siri emphasized.
Srinath Perera, editor of RATHU THARUWA (Red Star)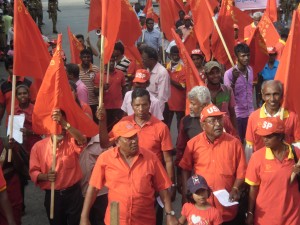 ewspaper of the USP said that workers all over the world are in revolt now. Workers and other oppressed people world over are fighting injustice, exploitation ad repression. Even at this moment workers and youth, black and white alike in Baltimore in the US are on street fighting against the killing of black youth by white policemen. They are our comrades, brothers and sisters.
USP has fought for he rights of Tamils ad Muslims relentlessly even in the face of threats to our lives.We will continue to do so until true democratic rights and national aspirations of these people are realised, he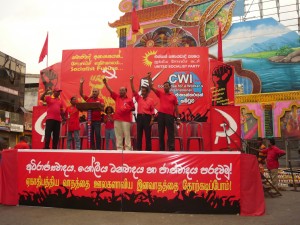 concluded.
womens wing leader of the USP, Dhammika de Silva explained the predicament of women workers. Working women in Sri Lanka are highly oppressed. Sri Lankan economy is on the shoulders of women workers.Women in garment industry, women in estate plantation sector and migrant women workers in the Middle East are the foreign exchange earners for the country. A semi – slave situation exists in all three sectors.Therefore it is important to fight for the rights of these women workers and draw them on to the main stream of workers struggle, she concluded.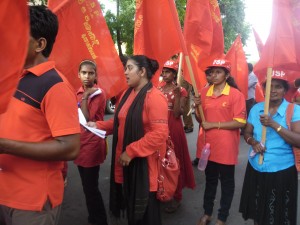 Socialist May day rally was concluded after singing the international.