LankaSocialist Correspondent
The United Socialist Party held a Media Conference today, March 17, 2015 at the CSR Hall in Maradana, Colombo.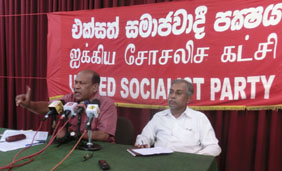 Comrade Siritunga Jayasuriya, General Sectary of the Party extensively dealt with issues in reaction to 100 days program of the new government and explained the looming danger of emerging Sinhala chauvinism associated with the campaign to bring back Mahinda Rajapakse.
He emphasized the need for a broad public discussion on the proposed 19th amendment running into 62 pages which would be a part of the paramount law of the country after passing.
Comrade Srinath Perera, Media Secretary of the USP also spoke in this press briefing.