Fight for Democratic Rights of All
Srinath Perera – Editor, Rathutharuwa Newspaper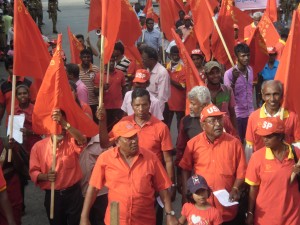 The Socialist May Day conducted by the United Socialist Party was held in Colombo successfully. Comrades and friends of the USP from all over the country came to Orugodawaththa, a Colombo suburb, to participate in the parade and marched to Grandpass in Colombo Central for the rally which started at 4 pm.
Sirithunga Jayasuriya, General Secretary of the USP, addressed the meeting saying that 'red became the colour of the working class not on their own choice; it was thrust upon them by the brutal state machinery by shedding the blood of workers in Chicago in 1896.'
Former President Mahinda Rajapakshe is trying to come to power again by clinging on to communalism. Intoxicated with power, he is going to temples daily to deceive innocent rural people. While the present government is boasting about the 19th amendment to the Constitution, a small step, a lot has to be done to ensure democratic freedoms of the people. 'Only through socialist change of society can we achieve real democracy and freedom,' Siritunga emphasized.